Now, I know that I'm supposed to do only movie reviews, but while I was looking up on my brand new computer, I checked out Arthur, one of my favorite T.V. shows of all time. To my surprise, PBS has decided to put some of the " Let's Talk To Some Kids" segments on its website. I felt so happy because they're finally recognizing why Arthur is a great show, and it's because of its honesty, originality, and humor. Tragically, they've been messing it up with horrible episodes, especially in the later seasons. So in honor of its 15th year, I decided to do a top ten on its worst episodes! Have fun.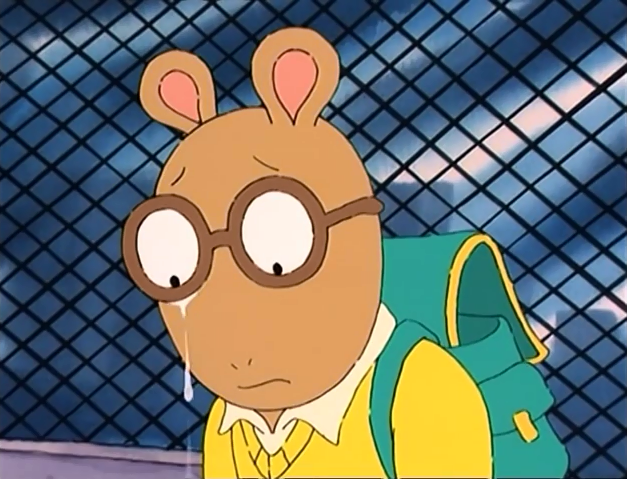 Poor Arthur......
The Top Ten Worst Arthur Episodes Of All Time (Or In My Opinion)
#10
. Bleep
(8-10) D.W. overhears an angry teenager say a bad word in a store, causing her to investigate what that word means without getting herself into trouble. My major concern with this one isn't the messages or animation or writing, but the actual "bad words" themselves. Earlier in the episode, Arthur explains what the bleep means in television and then imagines what would happen if he had the bleep machine. So, basically all of the words that his friends are being bleeped aren't bad words, but they must be bad words for they are getting bleeped. What are you trying to teach kids? Then, after D.W. learns an actual bad word, ( censored), she says it a couple of times, and so does her friends. Oh come on,
Arthur
! Why can't you just use a word that's recognizable as a word that kids shouldn't say, but is okay not to be censored, like imbecile? This one made me very uncomfortable, seeing toddlers saying bad words in a kid's show. What the bleep! Sorry, I just wanted to make a point.
# 9
.Misfortune Teller
( 1 -23) In this one, Prunella's older sister, Rubella, gives a cootie catcher to her at-first snobby sister. ( She matured throughout the series.) However, all of the kids become possessed with it after some of its predictions come true. This episode seems like one that has a great message of living life, but I just found it pretty ridiculous and stupid that no one in real life would believe. Kids are smarter than adults take them for, and they know the difference between reality and fiction. Even if the predictions come true, they know better than to believe that it had something to do with it. ( Trying to have fun with guessing is the main reason why cootie catchers are still made, despite my hatred of it.) Also, I found the kids more meaner than all of the others. When Muffy tries to give Prunella her cootie catcher, the latter selfishly refuses it. What a mean jerk! Finally, there are more goofs in this episode, than in any other one. You can find them on
http://arthur.wikia.com/wiki/Misfortune_Teller
.
#8
. To Eat Or Not To Eat
( 15-05) Buster is in the mood to munch down on the newest candy bar when he checks and tries to find out the ingredients in it, leading him deeper into a conspiracy. Despite its promising plot, it failed because of three reasons. 1) The mystery subplot in which Buster imagines himself as a detective from old movies. Aw come on, guys! He already is a detective! I also found it offensive since the whole sequence is in color, while most of the detective films of the olden days were filmed in black-and-white, which worked perfectly for the mood. If color was made for them, the mood would be dumb. Alas, this sequence is dumber since Buster's talking to a candy bar dressed and talking like a dame! He must be on drugs already. 2) We already know this information because most of America's shows did an investigation into ingredients. Also, we already know not to trust in ads from an earlier Arthur episode! 3) Kids don't care about the ingredients because they just want something to eat. Just look at any snack's ingredients and it's full of junk, but kids do eat it and don't mind it! Plus, Brian tells Buster that the candy includes some radioactive elements. If that was to happen, then everyone who eats it will get poisoned and die! Get some sense,
Arthur
!
#7.
Buster The Lounge Lizard
(15-04) Buster brings his toy into school, but since it's highly sensitive to all five senses, it somehow gets into the teacher's lounge. Then, they try to get it back, which I still don't get it. I mean why they can't just ask the teachers to search in there in the first place. This episode raises a lot of other questions. 1) How in the world did Buster's toy become highly sensitive?!? 2) If Binky only wanted to help to get his toy back, is he becoming a bully? 3) If Mr. Ratburn can give that toy back, why didn't he give back the phones, and all other toys back? After all, they were also highly sensitive! 4) If Mr. Ratburn explained that teachers are normal people in Mr. Ratburn Moves In, why do the kids still imagine them as weird beings? This show must have Alzheimer's, otherwise it would remember this piece of logic. Sadly, none of these questions are answered, and there are still lots of other questions on my mind about this stupid episode, but I will not go on my rant ,yet.
#6.
Buster's Best Behavior
(4-09) Buster wants to be someone else, and Arthur wants to be like Buster. Ironically, they get everyone really piss... I mean frustrated..... about their behaviors, so they learned to be yourself. Aw come on, you guys. We already did this throughout the entire series, and all of them are better than this poor excuse of an Arthur episode. In fact, I'm going to borrow from and give credit to Arthur Wiki. After all, you're borrowing from everything else! Take the script for example, as it gives out sparkling dialogue as this: "Wow, you guys really beat us!" How about this: "Wow! My really good lines are now replaced by ones that could make the writers get fired. Great one, guys." I mean, come on! You could have done something really better than that really dumb line! It also can take the place of a Lars Von Trier's film with its depressing storyline.
Okay, they don't die, but I feel miserable from watching the characters suffering unfair punishments.
Buster's whole entire life is dedicated to "telling jokes", while Arthur's life is summed up as "going on and on about sisters and pet dog." Wow, life is really rewarding them. Not!
I'm coming up with the top five worst Arthur episode ever, so stay tuned!